6 Places You Should Visit in Jeju Island
6 Places You Should Visit in Jeju Island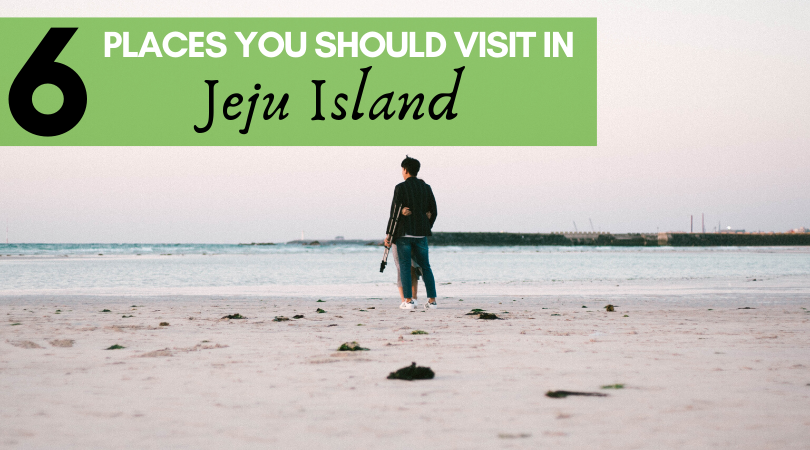 Korea is known for many things, music, beautiful spots, restaurants and a lot more. Now, if you're planning on going on a trip to Korea, why not make a stop at Jeju Island. 
What is Jeju Island Known For?
Jeju Island is known as South Korea's Hawaii and has become a popular tourist destination, especially during the holidays. It's a place that has crystal clear waters, white beaches, stunning cliffs, and waterfalls.
Here are 6 Places To Visit in Jeju Island
1. Jeongbang Waterfalls
Location: 36, Chilsimni-ro 214beon-gil, Seogwipo-si, Jeju-do
Opening Hours: 9:00 AM to 6:00 PM
If you're someone who loves nature, you have to make sure you visit the Jeongbang Waterfalls. The place is known as one of three popular waterfalls within Jeju. It stands 23 meters from the ground. One of the interesting facts about this waterfall is that its the only waterfall in the entire Asia which waters fall directly to the ocean. 
The walk from the parking lot to the waterfalls takes only around 5 minutes. However, you may need to make a stop for a few minutes to enjoy the beautiful views. Perhaps take a few photos along the way. But, the view you'll see along the way doesn't even compare to the Jeongbang Waterfall.
If you reach the foot of the waterfalls, you'll get to see its magnificent view and its sapphire-blue waters. Add the black cliff that compliments well with its surroundings.
Quick Tip: Make sure you wear shoes that are comfortable since the stones along the waterfalls are very slippery.
2. Oedolgae
Location: 791, Seohong-dong, Seogwipo-si, Jeju-do
Another great place to visit in Jeju is Oedolgae. If you enjoy basking in the stunning view, add Oedolgae to your list. The site is full of beautifully shaped rocks in large mass that definitely looks great in both Real Life and in Camera. The Oedolgae Rock was created and formed around 150 000 years back, during a volcanic eruption.
What makes this rock great is that you can find the place in the middle of the sea, away from the main island. Although the place is basically made of rocks, the grasses that lay flat atop the Oedolgae Rock looks gorgeous. Aside from that, the area is also great for both fishing and scuba diving. So if you want to try scuba diving, this is the place for you.
Quick Tip: Always bring snacks and water as you go along the trail.
3. Jusangjeolli Hexagonal Lava Cliff
Location: 36-30, Ieodo-ro, Seogwipo-si, Jeju-do
Another great place to head to if you're someone who enjoys walking around beautifully formed rocky cliffs. Jusangjeolli Cliff is a great place to visit. The place boasts of its perfectly hexagonal rock formations, which beautifully contrasts with the teal sea. The place was formed around 250 000 and 140 000 years ago out from the lava of Hallasan Mountain. 
The place boasts of a breath-taking view with beautiful waves that are crashing along the cliff.
4. Alive Museum
Location: 42, Jungmungwangwang-to, Seogwipo-si, Jeju-do
Opening Hours: 9:00 AM to 9:30 PM
Another great place to visit is the Alive Museum in Jeju Island. This is one of those museums that you will definitely enjoy even if you're not a fan of classic art. It's a museum that is full of optical illusions, sculpture, media art, object art, and provence art. The best part of this is that you can take lots and lots of photos within this museum that you can freely share on Social Media or just store on your storage devices.
The great thing about this place is that it allows you to be creative with your poses. From pretending to be boating up to being eaten by a giant snake, you have tons of options to choose from. You can even pose with your friends. If you're a person who immediately runs out of poses, don't worry, there are instructions.
Quick Tip: Free up a lot of camera space
5. Dokkaebi Road
Another must-experience place in Jeju us their Mysterious Road. It is a road where you can go up the hill, without turning the engine on. This seemingly gravity-defying road can even roll objects towards the hill. Although it appears to be defying gravity, it's more of an optical illusion. The Dokkaebi Road around Jeju Island is one of the magnetic hills that are scattered around the world. 
Plus, the place looks like its slope that is running uphills when, in fact, it has a slight downhill slope. The reason for this is its high and uphill surroundings. Still, don't believe it? Why not head there yourself.
6. Hyeopjae & Geumneung Beach
Your visit to Jeju Island won't be complete without visiting their beautiful Hyeopjae and Geumneung Beach. Hyeopjae is one of the best beaches in Jeju due to its crystal clear water and white sand. The place is also surrounded by coffee shops and restaurants, so you can easily grab some food you ever get hungry walking around the beach. 
Geumneung is another beach that is located right next to the Hyeopjae Beach, and just like Hyeopjae, Geumneung Beach boasts of its white sand and crystal clear waters. It is one of the best places where you can relax and enjoy the view. You can only wish to stay there forever. Another great thing about both beaches is that it has shallow waters, so you can just walk around and enjoy your moment along the beach.
Takeaways
Jeju Island is full of wonderful spots and beautiful places to visit. The list goes on, and you can never experience the beauty of the island if you just sit there and keep on scrolling. Why not head to the island instead and experience the beauty itself.