Choosing Your Ideal Korean Mattress And Where to Buy Them
Choosing Your Ideal Korean Mattress And Where to Buy Them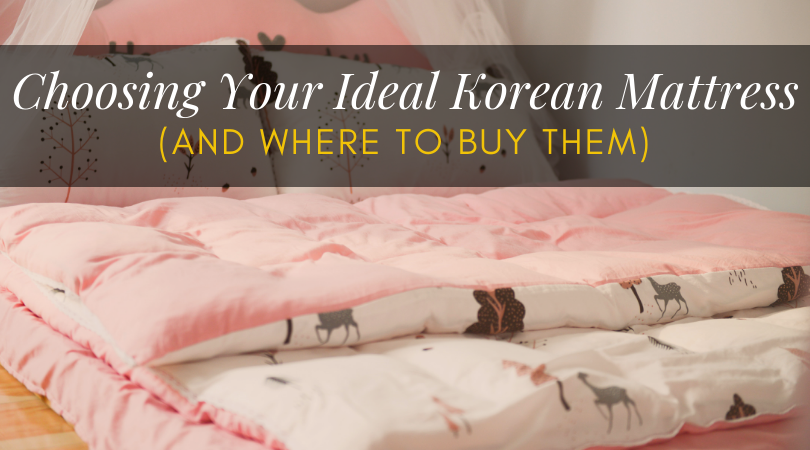 Korea is a wonderful place to live in. Not only does it offer gorgeous and pretty views that you can visit, but most Koreans also have a great personality. Which is why it's no longer a wonder to everyone, why a lot of people wish to live in the place. If you wish to live in Korea though, one thing you should deeply consider is the Korean mattress where you will be sleeping.
If you're someone who's used to sleeping on soft and comfortable beds, then you'll surely miss it when you go to Korea. Why? Korean Mattress is hard, and not just dense of any kind, but is actually hard一 rock type kind of hard. 
So, to give you a bit of an overview with what kind of mattresses you'll be seeing in Korea, here's a rundown on the top two common mattresses in the Country. 
2 Korean Mattress Types
This mattress is a thick and dense blanket which Koreans use as a mattress whenever they're sleeping. The reason why it's thick and dense is that the mattress will not be placed on any beds as you're used to because the Yo Mattress is directly placed on the floor. Your Yo Mattress is then topped and covered with a lighter and softer mattress that serves as a blanket. 
Quite the opposite of the bed that you're currently using, which is fluffy, soft, and is placed on the bed. Typical Yo Mattresses are usually laid out every night and is folded away during the day. This allows a lot of space that can be used for working and other daytime activities.
Commonly known as rock beds because the bed is usually made of hardwood or rocks. Hard Mattresses are not supposed to be topped or covered with soft mattresses of any sort. The reason why beds this hard were produced in Korea is that it has already become a part of their daily routine, which means that their body has become accustomed to it. 
One great thing about hard mattresses though is that most of these bed have a built-in heating pad which comes in very handy, especially during the winter.
Size Differences of the Korean and Standard American Mattress
When it comes to mattresses, the softness isn't the only thing that's different. In fact, there's quite a difference when it comes to their size too. American Mattresses have way more variation rather than the Korean one. In addition to that, some Korean mattress size is not also readily available in America.
Here's a list of the available American and the Korean Mattress and their sizes:
Let's start with the mattresses that are similar in size for both countries.
| | | |
| --- | --- | --- |
| Name of Mattress | American Size | Korean Size |
| Single | 99 x 191 centimeters 39  x 75 inches | 100 x 200 centimeters39 x 79 inches |
| Queen | 137  x 191 centimeters54  x 75 inches | 150 x 200 centimeters60 x 79 inches |
| King | 198 x 203 centimeters76  x 80 inches | 165 x 200 centimeters 65 x 79 inches |
For the single-sized mattresses, Korea certainly has a much larger one compared with the one from America. This is also true for the Queen sized bed, however, when it comes to the King-sized beds, Americans have a much larger one.
Other Sizes Include for Both American and Korea Mattresses are:
Standard Size of an American Mattress
99 x 203 centimeters (39 x 80 inches)
137 x 191 centimeters (54 x 75 inches)
183 x 213 centimeters (72 x 84 inches)
Standard Size of a Korean Mattress
110 x 200 centimeters (43 x 79 inches)
Where to Buy Korean Mattresses?
Korean IKEA has two outlets, one from Goyang and another from Gwangmyeong, they sell a variety of Beds and Mattresses, that comes in different sizes. They also cater to delivery, you can check out their delivery service offer here.
Emart is also another store that sells a variety of Korean mattresses, aside from that, they also sell high-quality sheet toppers that are made from cotton. The good thing about Emart is that if you live within 10 kilometers radius, they will deliver the mattress to your home for free. 
Homeplus also have tons of stores in Korea, and they have readily available mattresses in a number of variations that you can choose from. Just like Emart, if your home is within 10 kilometers radius from their store, they will definitely deliver your mattress for free. 
Lotte Department Store also offers a ton of variations when it comes to Korean Mattresses, and just like Homeplus, Lotte Department Stores are easy to spot as they're all over Korea. In addition to that, they also offer free delivery on the mattresses that you order if you live 10 kilometers within their store's radius. 
If you don't want to visit actual stores, you can also buy one online store such as G Market and 11 Street
11 Street is an online store that offers a huge variety of not only mattresses, but also comforters, bedspreads, pillows, and mattress protectors. They also offer Yo Mattresses in huge variation. The good thing about 11 Street is that they deliver worldwide.
GMarket also is also an online store which offers a different home and office furniture, which includes bedding. The great thing about GMarket is they also offer delivery worldwide.
Now, if you're really not a fan of Korean Mattresses because you don't like how hard they are, you can easily buy a western mattress off from Amazon, plus, they deliver worldwide. 
Takeaways
Korea's love for hard mattresses and beds are not rare because most Asian countries have it too. Now, if you're planning on living in Korea (or is already living in the country) and you wish to buy a soft and cozy mattress, you can try and search on Ikea, Homeplus, Emart, and Lotte Department store. You can also choose to buy one online on 11 Street, GMarket, and Amazon.