Fun Things to Do and Places to Visit in Busan, South Korea
Fun Things to Do and Places to Visit in Busan, South Korea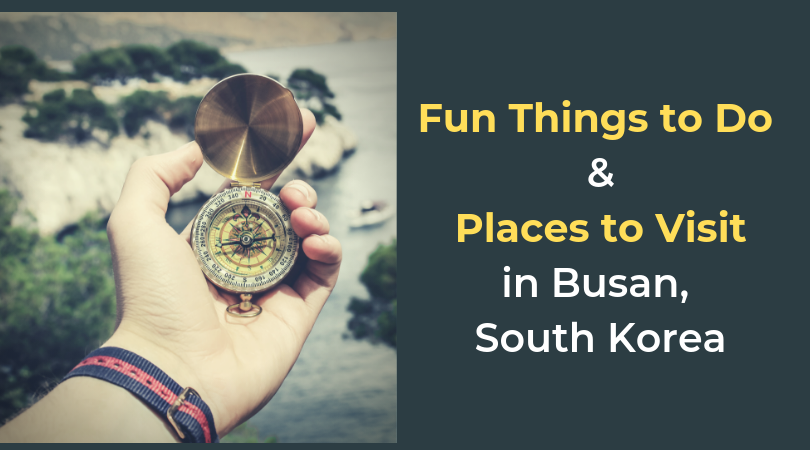 With the fast-pacing world, we have today; we might forget that we also have to rest for a while and rewire our minds so that we could balance life and work. Tons of vacation places have been popping up on the internet lately, and it is quite challenging to choose from all the beautiful choices. From beaches to mountains, from unexplored woodlands to the busiest towns. You might want to stay in a secluded rural place, or you might want to wander around well-lit urbane cities. Well, why not both? Busan is the best definition of a metropolitan-rural combo.
Busan, South Korea, known for its beaches and world-renowned film festival, wonderfully merges nature and innovation. Despite being a city, Busan has a laid-back appeal that individuates it from other towns. And although being a first-world metro, it is entirely possible to explore the city at a bargain. You can scout a lot of admission-free attractions and buy things which are relatively cheaper compared to other places.
Most of us are night owls; we tend to stay up in the wee hours of the night and enjoy the time when the sun has gone down to rest. Evenings are the best time to be yourself and here are the following things that will make your after-hours in Busan splendid.
1. Bay 101
Visit the Bay 101 during sunset and after it, and bask in its beautiful view. Enjoy taking pictures at its instagram worthy views. It is one of the best places to take your camera and your camera buddy with you. Aside from that, you can also go on a date, hang out with friends, grab a coffee or dinner, and experience the beautiful Busan coastline. 
It also provides a waterfront view. The fun doesn't just stop there, if you are searching for an affordable but delicious seaside dining, this is the place for you. They a variety of shops, dessert places and restaurants while you enjoy the view.
2. Busan Tower
Drive to the Busan Tower, where you can get a 360 Busan night view. It towers all over Busan and seeing it up close in a peaceful park ambiance, makes visiting the place more enjoyable.
Unlike most towers around the world, Busan Tower is "unique" in the sense that it is purely for leisure purposes. Busan Tower doesn't have transmitters. It is just an observation deck for the people who want to bask in a panoramic view of Busan.
3. Haeundae Beach
One of the favorite local hangouts. Haeundae beach is free,  clean and easy place to reach. IN addition to  that, it also has the best nightlife and bars within the area.  There are also find lots of western restaurants along its streets. You can even experience the sunbathed the beach with golden light.
If you're on a budget, you can go to the beach with your friends.
Bonus Tip: Bring your own drinks, to cut expenses. Just be sure to clean up after you enjoy the place— you don't want to pay for their expensive fines.
4. Boat cruise
If you're an ocean lover, it would be best if you try the boat cruise and tour around the South Korean Coast.  Not a lot of places in South Korea  offers this type of activity— only Busan can. Ride on a boat to loll in Busan's famous destinations.
A number of companies offer cruises in these areas,so try to roam around and check the prices. The best journey they say is Tiffany 21 as it is also known to be the most popular night cruise line. You can bask in maritime romance through taking a yacht around Busan's beautiful coast. Experience the beautiful scenery of South Korea's Busan, straight from the ocean.
4. Crossroads Bar
Crossroads Bar is a famous foreign hangout. It is known to be  a great place to hang out and mingle with others. If you're on a budget, Crossroads bar is an affordable way to party all night. They also have  weekly events and  open mic nights.  Sounds like a good idea to hang out with friends and meet other people.
5. Fuzzy Navel Bar
This friendly, well-located and cozy beach bar sits right at the sands of Haeundae Beach. Young locals gather around because of its accessible location. They also have an excellent drink deals. You can choose to hang out on the second-floor roof top for great night view. You can enjoy watching the waves as you sip your cocktail.
6. Beach Bikini Bar
Famous for their handcrafted cocktails and magnificent views, the Beach Bikini Bar has established a name for itself. This popular spot more of a lounge than of a bar, which is shown in its very contemporary and state-of-the-art decor.
If you enjoy having a friendly competition, they have pool tables and darts. They also have tables inside and outside which is great for hanging out with the people you just met. The place is open from 5 PM- 3 AM, the Beach Bikini Bar can be a brim to your night out in Busan.
7. Paradise Casino
Want to get lucky during your trip to Busan?  Why not go to Paradise Casino and see for yourself if the cards will play in your favor! They also have a room available for booking if you want a fancy weekend away. Plus, the splendid ocean view is perfect. Just remember if you're a Korean, then you can't gamble. You can't even enter the place with Korean friends, since gambling for Korean Citizens is illegal.
They also have a unique spas and dining options as well as wedding event space that fits for those who have luxurious wedding plans. To sum it up, this casino resort can be a luxury weekend for newlyweds or a fun night out.
Of course, your vacation wouldn't be complete without trying their delicacies. The following places offer food that will not empty your pocket but fill your stomach. These might be the places you'd like to shout SOS, Save Our Stomach!
1.Gangtok Dong Food Street
It is a skinny street teeming with food stalls and restaurants, Gwangbokdong Food Street both feast for the mouth and eyes. Their dumplings are perfect. You can even or go on an adventure as you order random which may contain fish.
2.Samjin Eomuk
Serving one of the best fish cakes or eomuk around the town, the Samjin Eomuk is the best place to be. It is said that Busan has the best fish cakes throughout Korea all thanks to the local seaside. These Samjin Eomuks are made from white fish offcuts that are made into different shapes. You can't leave Busan without trying one.
3.Taejongdae
 Taejongdae is a beautiful place where you can hike through luscious lands and get food rewards for foodies.
Head over to see a spot of nature and break away from the City. Situated on the Southern part of Yeongdo Island you can trek throughout the bushes or travel by train if you don't want your legs to get weary. You can then go back to the seashore to enjoy the fishy fare from little tents serving delicious local seafood.
4.An Ga
 An Ga is one of Busan's best, a barbecue restaurant which specializes Korean exquisite dishes. You've may have tasted the Korean barbecue from the West, but the real deal is a whole new level. Try their dishes with your friends so can have a little bit of every dish they serve— it saves you a lot of cash too.
5.Jagalchi Fish Market
It is the biggest Korean fish market. So what? If you're a food lover who is visiting in Busan, then you must head to Jagalchi.  Get to experience the organized chaos by middle-aged Korean women. These women are also known as Jagalchi Ajumma. Their fresh fish raw is also a must-try, specially if you're at the end of your Busan tour.
6.Choryang Milmyeon
Have an authentic experience in Korea and, head over to Choryang Milmyeon. Try sitting on the floor. Order traditional Busan iced soup squiggling with milmyeon and giant dumplings or wang mandu. You can wear your hanbok for an excellent experience. 
Will you be safe around Busan? As for security, Busan is as a very safe place, as it's just as safe the most places in South Korea, which is okay to say very reliable. You are safe to roam around at night freely. Just be careful since most bars close at about 3 AM. However other bars stay open until there are not much people around. Also, be cautious in the area around the Busan Station. It's also safer if you wander around with a lot of people, so if you're traveling alone, make sure to meet new people and make some friends. Would be a great experience, wouldn't it?
Be sure not to miss the places mentioned above, or you will be going home with regret. If you can't visit all of them, make sure to enjoy your stay because having fun is what counts after all. Don't forget your camera and be friendly.