Never Miss These 5 Amazing Korean Festivals
Never Miss These 5 Amazing Korean Festivals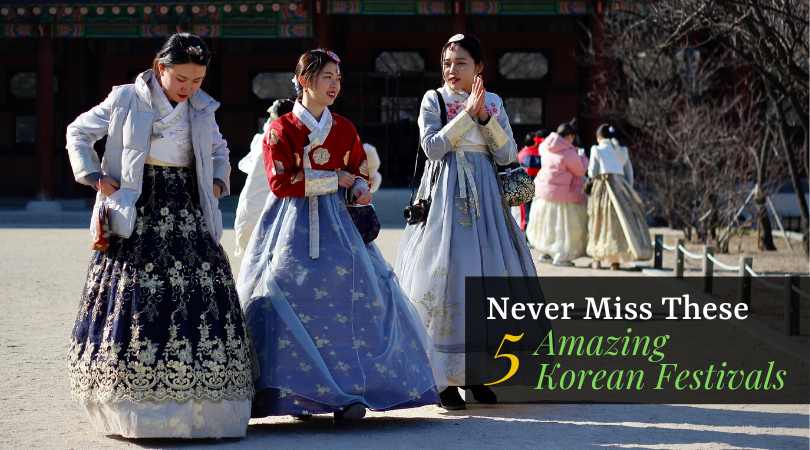 Have you ever been to a Korean Festival? If not, then you're missing out on a lot of things. Korean Festivals are a mix of both loves for nature and a whole lot of fun. From walking under the beautiful cherry blossom trees up to experience the magnificent view of fireflies on Nature, Korea has them all.
So, if you haven't gone into one of Korea's Festival, we have listed down a few of these festivals for you.
Here are 5 Fun Korean Festivals To Experience
1. Hwacheon Sancheoneo Ice Festival
If you love both Korean and Fishing, Hwacheon Sancheoneo Ice Festival, then make sure you experience this fun and unique festival. Hwacheon Sancheoneo Ice Festival happens from January to February. During these days, a lot of people flock to the Gangwon-do's Hwacheoncheon Stream to fish for Sancheoneo (Masou Salmon), commonly known as trouts. These trouts are known to only live on the best freshwater.
The fun and excitement lie behind the cold weather. In fact, a lot of visiting people will also jump into the cold pool of water beside the stream. These people mostly wear tee-shirts and shorts and will most likely engage with barehanded fishing.
If you're not into barehanded fishing, you can opt for the more peaceful alternative, which is Ice Fishing. All you need to do is to bring your fishing pole, small chair, metal lure, and a blanket. Don't forget your ticket for the festival, and you're good to go.
2. Jeju Fire Festival
This yearly 3-day festival happens at the tail end of February up until early March. This is festivity occurs on the hills of Jeju City. The Saebyeol Oreum is lit up and is set ablaze. This is to welcome a good year and a good harvest for the upcoming year. This is a symbolism for the Ancient Tradition, where old grasses are being burnt to get rid of pesky vermins before each planting season.
To add to that, there are also a lot of fun activities during this time. These fun activities include torch marching, folk games, special performances, and many more. A spectacular display of fireworks is also done, which marks the end of this exciting festival. What makes all of this extra special is that it all happens on the scenic landscape of Jeju Island. A place that's popular for having a beautiful landscape.
3. Jinhae Cherry Blossom Festival
Who doesn't want to take a walk under the beautiful Cherry Blossoms? Whether you're alone, have your partner with you, have a whole gang of friends, or want to spend some time with their family, these Cherry Blossoms will never fail to make you happy. This is the country's one of the major festivals. There are two main sites that people flock to if they want to experience the Jinhae Cherry Blossom Festival.
These are the Gyeonghwa Station, and the Yeojwacheon, which is also known as the Romance Bridge. The place is surrounded by beautiful sakura blossom that you can even take aesthetically pleasing images. If you want to witness this picturesque beauty, you should head to Korea during the country's spring season.
Don't worry about foods and fun activities since both places have military and cultural performances. They even have street foods and food vendors.
4. Jindo Sea parting Festival
If you've heard about the Moses Miracle where Moses parts the sea, Jindo has a similar phenomenon. This is the Jindo Sea Parting Festival. This phenomenon is caused by tides.
The Festival usually happens around spring around South Jeolla Province parts, Jindo. You can walk along the place's dark-gray colored narrow path, which is contrasted by the surrounding waters.
The path has an estimated distance of 2.8 kilometers and is around 40 – 60 meters wide. You will be surrounded by the place's beautiful sea. The greatest thing about this is that you can take as many photos as you can. This only happens once every year, so make sure you get to visit the place.
5. Muju Firefly Festival
Another festival that you should also be watching out for os the Muju Firefly Festival. Witness this magical experience with Fireflies as you see them light up the dark sky. Firefly festival usually happens around mid-year, usually, around June. It is held at Muju, North Jeolla Province and is currently considered to be one of the place's special events.
You may get to enjoy the Festival's most popular activity, which is the 'Fireflies Exploration Event.' This is where you get to enjoy fishing, as well as the joy of becoming closer to nature.
Which means not only will you be able to take lots of photos of this magnificent view, but will also get to experience the joy of becoming closer with nature.
And the greatest thing about this? It's a wholesome experience that you can only get if you visit Korea.
Takeaways
No matter what time of the year you'll get to visit Korea, you'll still be able to get so much, not only through their numerous adventures but also with their festivals. You can go fishing during the cold season or have a walk on a beach with a narrow path during springtime.
You can even witness the scenic beauty of the Cherry Blossoms and the beautiful Fireflies during springtime.
These festivals are something that you cannot experience anywhere else in the world because it is engraved in the country's tradition. Which festivals would you like to visit?