Places You Should Visit to Experience Korea at Its Finest
Places You Should Visit to Experience Korea at Its Finest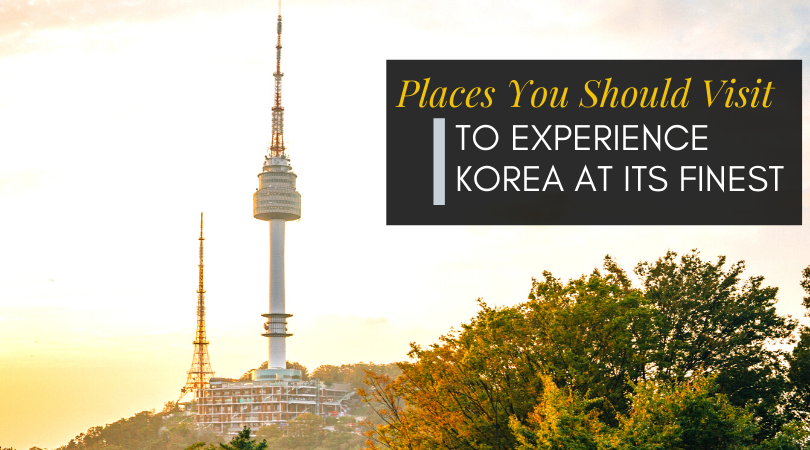 Are you planning on heading to Korea for your next vacation? Then you should be more than ready to experience Korea at its finest.
Korea, as we all know it, is known for its popular beauty products, cosmetics, music, and drama. However, there's more to Korea than just this. Out of these beautiful things that they're really popular, is its rich culture.
So, if you want to experience Korea at its finest, then you should definitely pay these places a visit during your vacation.
Here are the 4 Things You Should Experience in Korea
1. Jimjilbang or Public Bath
Sauna, which is commonly known as Jimjilbang and a public bath among the locals, is a popular place, even for the locals. It's known to be a place where you can de-stress and feel relaxed. For starters, you need to pay around $13, and you will be given a uniform, two towels, and two lockers where you can place your shoes and your clothes.
Male and Female bathhouses are separated. Now, don't be surprised if you all you see are naked men (or women), once you enter the sauna. You will definitely find naked people of all ages, sizes, shapes, and colors. So, if you're not used to this kind of scenario, I suggest that you should prepare yourself for that. However, the experience itself is one of a kind.
Another thing about Jimjilbang is that you should first take a shower and clean your body very well before you plunge into the goodness of the Jacuzzi. After soaking in the Jacuzzi, you'd have to dry yourself and change into the uniform. You will then be brought to a different floor where the saunas are placed.
There are also sleeping mats and blankets on this floor that you can use whenever you find yourself sleepy. It's a much cheaper alternative for an expensive hotel.
2. Seoul Tower or Namsan Tower
If you're a traveler, then you should go up the Namsan Tower located in Seoul. It's a great place to head to if you want to spend a romantic night with your partner. Know that you'll be doing a bit of a hike before you'll be able to reach the lifts which will take you to the top of the tower. I suggest that you wear comfortable shoes if you visit this place. Once you reach the top, you find locks. Tons of it.
In fact, the area is full of locks and is commonly referred to as the locks of love. This is where couples write their names on the lock and leave them on the tower. Another thing about this is that there's a separate lift which will take you to a restaurant. A fancy one at that with a scenic overlooking view of the entire city. However, the restaurant is not cheap, so if you plan on having your dinner there, make sure you have the budget for it.
3. Byeongbangchi Skywalk & Zip Wire
Flock away from the hustle and bustle of the city and head to the Ari Hills Byeongbangchi Skywalk & Zip Wire, which is situated at the small county of Jeongseon. Fun fact, the zip wire here in this place is popular for being one of the steepest and longest zip wires in entire Asia. So, if you're someone who's up for the adventure, then you should visit this place.
The great thing about Byeongbangchi Skywalk & Zip Wire is that it's not only popular among the travelers, but for the locals as well. The place itself is scenic with lush greeneries. The skywalk for this place is also very beautiful. It features a picturesque view of nature. You can even take an All-Terrain Vehicle (ATV) along the trails together with a tour guide.
4. Sun Cruise Resort & Yacht
This place screams fancy and luxury from the exterior up into its interior. From the name itself, Sun Cruise Resort & Yacht is a hotel in the shape of a ship. Another fun fact, this place is the only existing ship hotel in entire Asia. The place is an excellently refurbished old ship that was transformed into this ship-shaped hotel.
To add to the overall experience, the hotel is situated on the beach. Giving you the magnificent view of the beach. The place is also adorned with beautiful statues that are certainly worthy of pictures. They also have a sky bar where you can sit near a window with a platform that rotates in 360 degrees. Giving you an overall view of the entire property. It's highly recommended that you visit this place during summer so you can completely enjoy the view of the beach at its best season.
Note: The place is not for budget travelers, but it's certainly worth every penny.
Takeaways
Korea is a place where travelers who want to go on an adventurous vacation can head to. But it's also a place where tourists who want to enjoy nightlife can visit. Not only that, but Korea also boasts of its unique and delicious delicacies that you will surely enjoy.
It also boasts of its rich culture that you will not experience anywhere else in the world. From their relaxing bath to a romantic tower, a zip wire, and skywalk, up until the luxury resort. Its a place where both budget travelers and luxury travelers can enjoy.