Travelling to Busan, Korea: Hotels Where You Can Stay and Places to Sleep
Travelling to Busan, Korea: Hotels Where You Can Stay and Places to Sleep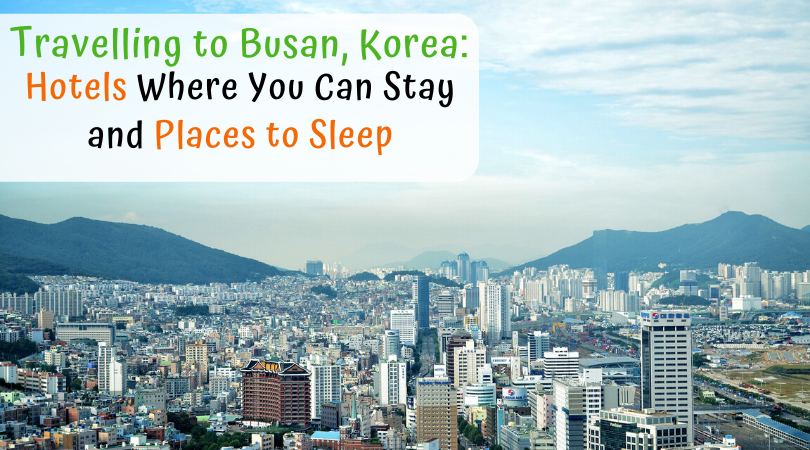 Busan, South Korea, is a large city with lots of things that you can do. But if you're planning on traveling to Busan, you should get started with the City's best neighborhood for travelers. 
These are:
Seomyeon
Haeundae
Nampo-dong
Why Are They Called as the Best Neighborhood for Travellers? 
The answer to that is fairly easy. These four neighborhoods feature the best views and activities that you can try out when traveling to South Korea. Aside from that, these areas are also bustling with excellent public transportation that can easily bring you to the place that you want to visit. 
Now, if you're planning on visiting Seomyeon, Haeundae, and Nampo-dong, the first thing that you should secure is a place to rest after a long day of travel and fun. We have listed down a bunch of hotels that you can book during your stay in Busan, Korea. We'll be listing them by neighborhood so you can easily find them. 
For those who are traveling to Korea for the first time, Seomyeon is the best neighborhood for you. The reason for this is that Seomyeon is a central neighborhood. You can easily visit and travel to other neighborhoods with the place's excellent public transportation. To add to that, it also features a lot of places to sightsee.
So if you're planning on staying on this part of the neighborhood, you can book a reservation on the following hotels:
Uniqstay Bed & Breakfast
This hotel boasts of its boutique-style rooms that show off Seomyeon's excellent and unique value. Aside from that, it also has a spacious hotel room with simple decoration. To top it all off, you'll also have a sweet and delicious breakfast with your reservation. The hotel is also a few minutes way from Seomyeon Station if you travel on foot. 
Arban Hotel
A 3-star hotel that is located at the center of Seomyeon, which also features spacious and bright rooms. The hotel also has a sleek and modern vibe to it. It also boasts of a rooftop terrace where you can relax and enjoy the beautiful view of Busan. It also has a 5-minute short walk towards the Seomyeon Station.
Lotte Hotel Busan
If you're looking for a luxurious 5-Star Hotel, Lotte Hotel Busan is for you. It features large and spacious rooms that are decorated in a hip, contemporary style. It also accents scenic and flashy views over Busan through its large picturesque videos. You can also soak in their outdoor pool and relax at their sauna. You can even workout even on your vacation within this hotel. To top it all off, its also interconnected with the duty-free Lotte Department Store. 
If Busan's Beaches and Seaside Charms is what attracted you to visit the place, the Haeundae is the ideal location for you. It boasts of a beautiful coastal neighborhood that you can surely enjoy. To add to that, Haeundae is also popular for its beaches. In fact, it's one of the places that attract visitors from all over the world to visit Korea. 
So if you intend to on this part of the neighborhood, you can book a reservation on the following hotels:
Good Day Mate
A homey and comfortable guest house, which is only 3 minutes away from the beach, boasts of a shabby and chic along with its unique industrial elements. Giving it a one-of-a-kind homey vibe all around it. The Guest House provides both private rooms and shared accommodation with private bathrooms. 
MS Hotel Haeundae 
This 3-star hotel is only a minute away from the beautiful Haeundae Beach. It features large and spacious rooms, adorned with modern furnishings to give you a clean and simple design line. To top it all off, its scenic ocean-view rooms should never be missed. 
Park Hyatt Busan
Known as the best place to say in Korea, this luxury hotel located in Haeundae is known for its large and expansive rooms. Their rooms have a warm modern vibe, which is combined with the modern wooden furnishing, giving it a very sophisticated look. And the evening views from their ocean-view guest rooms as well as their restaurant on the 32nd floor and dining room is purely magical. 
If you're fond of shopping and it is also a foodie, you should stay here in Nampo-dong. It features a lot of attractions aside from its glamorous fashion boutique, cosmetic shops, and, most of all, restaurants. If you're not a fan of restaurants, they also have a lot of street foods to offer. 
24 Guesthouse Nampo
Located at the center of Nampo-dong, 24 Guesthouse Nampo is known as a budget chain. It features festive and bright rooms that can brighten up your mood. They also provide private rooms with their own private bathroom at a budget-friendly price. To top it all off, you can easily head to the Nampo Station since its right outside the door. 
Stanford Inn Busan
This is a 3-star hotel which is located minutes away from the Jagalchi Market. It features superior city views that you can freely enjoy during your stay. To top it all off, its large and spacious rooms for the Korean Standards are also a plus. 
Aventree Hotel Busan
A luxury hotel with a 3.5 star that is elegantly decorated with relaxing warm colors. It features large and spacious rooms that feature an incredible view of the City. To add with that, you can easily head to the Gukje Market, a place where you can shop and splurge on delicious foods. 
Takeaways
Looking for a place to stay in Busan is never tough. Just check out the following hotels that are located at the most convenient part of the City.