Exciting Things To Do When Visiting Myeongdong
Exciting Things To Do When Visiting Myeongdong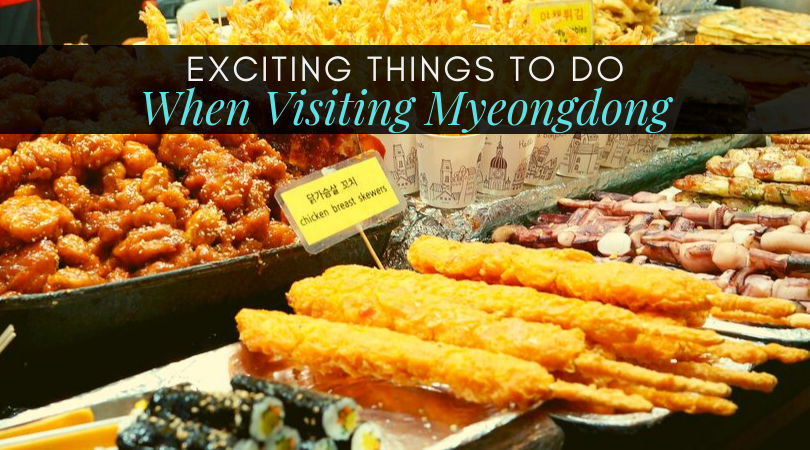 Planning on visiting Myeongdong but is not sure with what you can do at the place? Don't worry, you're going to have loads of fun (and photos) at the place.
Myeongdong is known for its food and interesting shops, which is why a lot of tourists making it one of the places to visit before they head home.
Myeongdong In A Nutshell
In Korean, Myeongdong means "bright cave" or "bright tunnel," and it is situated around Jung-gu, Seoul, Korea. Myeongdong, as the name suggests, is famous for its shopping street with lots of neon light during the night time. On the day time, it's packed with exciting things to do. From Myeongdong's mouth-watering Food up to its magnificent landscapes.
Here are 5 fun of things you can do at Myeongdong:
1. Street Food Stall-Hopping at Myeongdong
One fun way to enjoy Korea, specifically Myeongdong, is through having a taste of its street food stalls. What makes street Food great is its price and its taste. When you visit Korea, there's no way that you wouldn't want to have a taste of Korean Food. Although there are a lot of beautiful restaurants and cafe in Korea which serves delicious food at an economical price. Street Foods that are prepared on the stalls are also another way of enjoying Korean Food.
Some of these street foods are:
Sausage (sundae)
Sweet and Sour Chicken (Dakgangjung)
Grilled Scallion and Chicken Piece on a Skewer (Dakggochi)
Potato-Wrapped Sausages (Hweori)
Deep-Fried Shrimp (Seawoo Twigim)
Fried Giant Squid (Ojingeo Twigim)
These are not the only foods that you can enjoy at the place. Visiting during winter? You can have a sip of their delicious hot fish soup as you strut down the streets of Myeongdong.
2. Satisfy Your Sweet Tooth with Rose Gelato
If there are other things that you want to do besides eating street foods, then it is eating ice cream and other sweet things. You might be thinking that ice cream in Myeongdong tastes just like how it is back in your place. You're wrong. Myeongdong is also known for its uniquely shaped Rose Gelato. This Gelato has different Variations of flavor, from yogurt, strawberry, chocolate, and even green tea, they have it. Plus, the fun doesn't just stop there.
If you think that just because the Gelato comes in an Instagrammable Rose Shape, the fun stops there, you're once again mistaken. They even have a foot-long ice cream cones that are flavored. You can choose from Vanilla, Strawberry, Tiramisu, and Chocolate. There are more sweet foods to satisfy your craving for sweets with their Sugar Lollipop (Bbopkki), Fish Pieces of Bread (you should try this one), and Mochi.
3. Fun Picture Taking with Line Friends
If you know Line Friends and you're a fan of them, especially their large brown cuddly bear and Sally Duck, then you shouldn't miss this one out. Right in front of the Line Store, stands a huge brown bear with a Sally Duck sitting on top of its head. Now, if you're thinking that the bear is not that large because it is just a cartoon character. You're mistaken.
The bear is huge, which gives you the creative liberty and freedom to pose for a photo together with the giant bear. You can even post it on your social media accounts. If you're not a fan of the giant bear, you can visit the line store located behind the giant bear, and shop for a vast sea of items with the line friends in it.
4. Shop at Style Nanda Hotel
That's not a typo, Style Nanda Hotel is a 6-story shopping and coffee shop arcade at Myeongdong. Love Pink, Glam, and Aesthetic Decoration, then you should pay the Style Nanda Hotel a Visit. The place is beautifully decorated with pink, white, gold, and teal color. Wear something that matches well with these colors, and you'll find yourself taking a bunch of photos in every corner of this place.
Each level of the Style Nanda Hotel has a different concept, with the vintage aesthetic as its overarching theme. The hotel has a spa, lobby, rooms, laundry, and even pink pool cafe with their sizeable pink umbrella and huge fluffy pink and white pillows and bean bags. Talk about paradise. Style Nanda Hotel sells shoes, clothing, makeup, and even sell food. So if you're hunting for places to shop, Style Nanda Hotel might be for you.
5. Pay Their Oldest Cathedral a Visit
If you're one for history, then you shouldn't list the Myeongdong Cathedral our of your places to visit. Myeongdong also has a rich history to offer with their busy streets and surroundings. The Myeongdong Cathedral is one of Korea's oldest Catholic Churches. It has a striking image and although not as large as the other Cathedrals you may have seen, looks absolutely stunning.
The Myeongdong Cathedral was mostly used as a place where protest and political demonstrations happened from the 1980s to 1990s. It's a very peaceful place, quite the opposite of everything that I have mentioned from the first up to the fourth point. Paying a visit to this old cathedral can help you understand more about rich Korean history. Plus, it is a picture perfect location.
Takeaways
If going to Myeongdong is one of your itineraries, then you should prepare a massive space for your camera. The place is full of picture-perfect locations that you can immortalize using your camera. From their aesthetically pleasing shopping arcade to their large bear, your camera is undoubtedly in for some exciting images. Plus, you won't get hungry that easily. Myeongdong is packed with food stalls both savory and sweet that you could take along with you, as you strut down the streets.